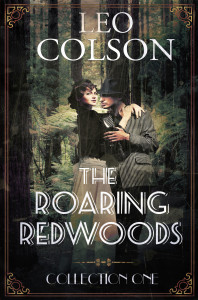 The Roaring Redwoods was first released as a short read e-serial.
All 10 episodes were published between
late 2014-mid 2015.
An ensemble cast of characters live the roaring '20s under the magnificent canopy of California's Redwoods.
The Pacific Ocean meets the forest. Gangsters, immigrants, loggers, movie stars all flock to the Santa Cruz Mountains and the luxurious Riverwood Lodge and Casino.
The episodes have been gathered into Collection One and Collection Two (5 episodes per book) available in print and ebook versions.  I hope you enjoy reading about the high times and low lifes in The Roaring Redwoods.
(Lots of "behind the scenes" posts are under the "Roaring Redwoods" category on the blog.)
---