California Cocktails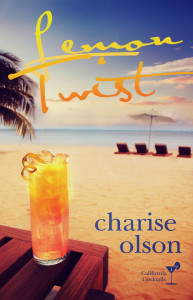 This is my romantic women's fiction series. Each book centers around one of four friends: Audrey, Julia, Kate and the best bartender in San Francisco, Quinn.
PreOrder now (at a special price)!
Releasing:
April 8, 2016!
Book 1: Lemon Twist
"How bad would it be if we didn't get married?"
Audrey is planning her perfect wedding for her perfect life and perfect future as Dr. Gregory Smith's wife. Right up until he calls with the news his chilly feet have gone icy cold.
With an unworn dress (that was just a few salads away from fitting), a lost promotion, and living in her best friend's spare room it's no wonder her therapist is on speed dial.
With help from great friends, some divine intervention, and a few Lemon Twist martinis, Audrey deals with her commitment phobic fiancé, her boss' roving eye, and the decision to chuck what's left of her life state-side and head for volunteer work in Costa Rica.
In Costa Rica, Audrey learns Spanish, the perils of raw coffee beans, and how man trouble can find you even in the rain forest.
Because while Audrey might have left a lot behind, she still manages to bring along plenty of baggage.
PreOrder for the special $1.00 price!
Book 2: Decanted
Julia.
Book 3: On the Rocks
Kate.
Book 4: Last Call
Quinn.