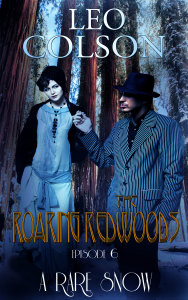 (Cover preview for episode 6!)
I'm currently writing and mommying full-time. And it's great. But-this time of year- brings up a few downsides too:
*No office party. Last year I was in charge of planning the party for the organization I worked for (in what I refer to as my resume-career). And it was so fun! Photo booth, DJ, catered food, open bar, games, light effects…
*No break room. There is no place where people are bringing in their baked goods or boxes of candy. No clients sending gifts of cheese and salami. No boss showing up with a pink box of decadent pastries…
*No time off. Of course, I take time off, but there is no paid holiday, no natural lull in the calendar.
I saved my contest-winning ugly sweater from last year and pulled it out this year. I folded it and put it back, maybe next year a bunch of writers can put something together.
The upside is I wrote a "Christmas" episode of The Roaring Redwoods. There were gorgeous trees, garland, baked goods, and fun parties. It even snows! But no pine needles to clean up or actual baking to do. And the parties were filled with only the best kind of drama.
Have a wonderful holiday- whether it involves a real or imaginary party!