Episode 3 is available right now (Amazon, Nook, Kindle)!
If you haven't read Episode 3, well, as the saying goes: SPOILER ALERT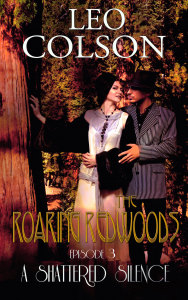 In A Shattered Silence, Julie Morgan visits Joseph Santone's work site for his planned Riverwood Lodge.
In the 1920s, Julia Morgan was actively running a thriving architectural firm in Berkeley, California and overseeing one of her most notable projects: Hearst Castle. By 1925, it was quite far along and she was there several days each and every week, living with her work crews.
I knew Julia would be Joe's first pick for architect because he came through San Francisco and stayed at the Fairmont. Julia rose to prominence when her bell tower at Mills College was one of the few structures to withstand the forces of the 1906 earthquake. From that, she was hired to restore the Fairmont which she did in a year and to much acclaim.
Julia had studied at UC Berkeley and in Paris. In her early career, there is a heavy European influence with medieval and moorish influences obvious in her designs. But she was not stuck in the "dark ages". She embraced new materials and techniques and combined old styles in new ways. It was her reinforced concrete technique (ridiculed by others till that earthquake) that made the bell tower stand.
Her later buildings show she was always evolving. The YWCA buildings at Asilomar reflect this as well as some of the residences and churches she designed in Berkeley.
It is this quality that makes me believe Julia's advice to Helen would be keeping with her personality.
In the episode, I reference a sort of oddity in her cheek. Julia had surgery and there was a mistake during the procedure which resulted in a sort of lopsided appearance. While Julia was a modest woman, she was very self conscious of this problem for the rest of her life. I've seen photos and it did not seem that noticeable though she kept her head tilted/tucked to keep observation to a minimum.
Julia,  as a woman in a man's field, was noteworthy in her time (and still is). However, as I read about her, I was even  more impressed that she was able to rise above the limits in her own family. A traditional East Coast family, ne'er-do-well father, a fragile mother, more fragile brother…
As I note it in the episode, she did come into contact with Randolph Hearst through his mother who supported many noteworthy women. Julia designed new projects as well as remodeling for the elder Mrs. Hearst. Her son Randolph Hearst- by all accounts- was an egomaniac (and probably a few other things). In my personal opinion, I do not think his "castle" is anywhere the best reflection of Julia Morgan's talent (though it is astounding). It is more a reflection of her attempts to please a difficult and astonishingly rich client.
Unlike someone like Frank Lloyd Wright, Julia Morgan was intent on her client's satisfaction with the time and budget given– not to satisfy a vision of only her own making.
However, she was uncompromising in her expectations. She once saw tile work setting up that did not meet her standards. She ripped it out with her hands. She would often take tools away from workmen to show them how she wanted the job done.
One thing that I am not sure is fact or fiction in A Shattered Silence is the reference to Julia designing a building in nearby Los Gatos. There is some conflict if the buildings for the boy's school (now The Presentation Center) was designed by her or not. (By the way the history of the Montezuma Boy's School is quite interesting in and of itself.) Several sources listed her as the architect, but the records are hazy. When Ms. Morgan (she never married nor had children) decided to retire, she offered clients the option of their files from her office and the rest were destroyed.
The non-fiction folks have only brief appearances in The Roaring Redwoods, because when I read about someone like Julia Morgan, I hesitate to bring them too far in to a fiction piece. They are (were) amazing enough in real life.