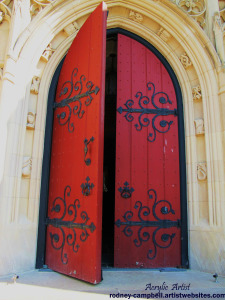 One of the biggie denominations in my life was Southern Baptist.  I first attended one when I was in eighth grade. My friend, Shirley, invited me. Their family were devout Baptists and I was sort of mystified by them. They had five kids. Actually, it might have been six. I do remember distinctly the youngest was in kindergarten and still breast feeding. That has nothing to do with their religion but it was just one more way this family holds a distinct place in my memory.
And Shirley had very strict rules about avoiding "being of the world."
My family started attending and we went to that church for a year or so. I was baptized there. I went to a tent revival there.
And then we moved to Texas.
Moving to Texas from California was pretty radical. The food, the weather, the bugs, the snakes, the school, and, yes, the churches were different.
In the spirit of honesty AND keeping this positive, I don't have a lot to say about this church. The experiences there kept me from attending church for many years after I left.
One important lesson I learned in this church is that church attendance or a church title does not equate goodness, kindness, or integrity. While painful, it is one I appreciate (now).
So, I don't have a lot of good things to say about my Southern Baptist years.
Yet…
I remember going on a Mission Trip and painting houses and doing yard work. We were in a little town and we just went out and asked if anyone needed help. And we helped. I met my first love on that trip.
Another time, I remember the Youth Pastor's wife giving a talk just for the girls that taught us to be smart and safe with our bodies. It was the most honest, positive discussion about being female I ever had.
I remember a friend from school and I ditching the service to sit on the back stairs and talk. The encouragement and support we didn't find in the church programs, we found on those stairs.
In this faith journey of mine, it's been quite a TRIP. And while each stop hasn't been beautiful, I have gotten something important from each. Some took longer to appreciate than others.
But each one did their thing bringing me to know what I really believe, what I know to be true. Each one did their thing in bringing me to know what I don't believe. What I know to be false.
Each one bringing me closer to God.