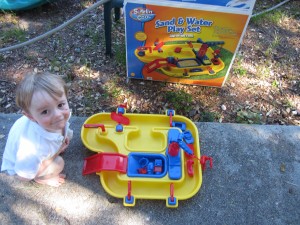 Dear Toys R Us;
I recently purchased the sand/water toy on sale at your store. Upon opening the box, I was stunned by the number of parts required for assembly.  I had eagerly brought the box in and confidently told my toddler "Look at what we get to play with!"  After opening the box, I amended that to, "In approximately 45 minutes."
I believe in being part of the solution, and, in that vein, wanted to offer some revisions for the enclosed instructions:
1. Open the box. Verify all 102* parts are present. This is a free math lesson included with the toy.
2. Measure  2 oz vodka, .5 oz dry vermouth, and a generous splash of olive juice in martini shaker. Add ice and shake. Pour into glass. Place in freezer.
3. Unsnap 101 parts from their plastic frames. Because we went with the lowest bid, we couldn't afford the quality control check that the pieces will indeed snap apart. The molds turned out to be so poor and the plastic is low enough grade that you will need scissors to actually disengage the pieces. You will also need a nail file to sand off the sharp edges remaining to prevent injury to yourself or child. <Insert standard liability release here for any injuries related to sharp edges from poor quality molding>
4. Pause here to find magnifying glass to read .7 point font of these instructions. While up, feel free to throw away the PAPER stickers included for this WATER toy. We couldn't afford the good plastic stickers at this price point.
5. <Move assembly of vehicles enclosed with toy up in sequence  so child waiting for his fun new toy has something to entertain him while you continue search for parts necessary for crane>.
6. During your search for pieces,  consider that the reasonable price is reflective of the wages we did not pay someone in China to do this assembly work for you. This is a free cultural awareness lesson we include with the toy.
7. Realize that avoiding those engineering classes might have been a mistake. Didn't your teachers tell you some day you would be assembling a crane? This is a free life planning lesson we include with the toy.
8. Do not throw out box. You will want to refer to photo to verify that the 101 pieces scattered by toddler and cat will indeed some day, one day become the glorious sand and water table featured on said box.
9. After assembly, place outside for toddler, fill with water and sand. Marvel at your skill. Marvel at toddler who has lost all interest and is playing with the toy you bought at the thrift store for 5.00 PRE-assembled.
10. Remove martini from freezer and add three olives. Enjoy.
*The toy has approximately 40 pieces but it FELT like 102.