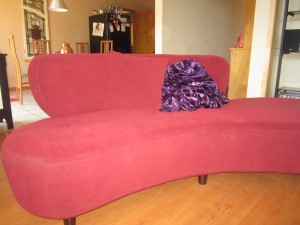 There once was a cool red couch. It sat in the center of the furniture store and everyone passed by saying, "That is a cool red couch."
Yet, no one took it home.
One day a woman and a man came to look at couches and they walked all  over the store. There was a nice brown couch.
But it was too big.
There was a very nice green couch.
But it was too green.
The woman said, "I really wanted a red couch."
And then the woman and the man saw the cool red couch.
They both thought the couch was very cool.
And it was certainly very red.
The woman wasn't sure. "I want a couch that is cool And is red."
The furniture man perked up and waved his hand at the cool red couch.
"Yes," the woman added, "but it also has to be comfortable. When you have the flu and manage to crawl to the couch to watch a movie, you don't want to be trying to look cool enough to be on your couch."
The furniture man and the man with the woman, assured her the cool red couch was also comfortable enough to lounge on.
The woman still had her doubts, but she bought the couch.
It wasn't that it wasn't a cool red couch. But it wasn't very comfortable. Even if you didn't have the flu, it was not the kind of couch you enjoyed. And none of the other furniture looked as good with the cool red couch around.
The woman finally had to admit, she should have never bought the couch.
Life Lessons of the Cool Red Couch
The woman learned that a cool red couch at the furniture store may not be so cool in your living room.That just because others saying it's right doesn't change the feelings of not being quite so sure. 
That the woman should have listened to herself at least as much as she listened to others.
Then it was time to move and the cool red couch could not come. The new house was much too small with much too green carpet.
The woman would sell the cool red couch. This would make the life lessons of the cool red couch easier to bear. Right?
Nope. Because no one bought the cool red couch. And so, on moving day, it had to be donated.
So the woman also learned that life lessons don't come cheap.