I had a life lesson about the tree last year. A couple of years ago I felt we must have the big tree. And you know, the big tree is lovely.
But, by yourself?
It is damn hard. I drug it in, put it in its stand and somehow kept it upright while Little Sir napped. It took up too much space and dried out before New Year's.
Last year, I bought a tree I could carry in one hand and it was gorgeous. And easy.
So, this year, we also have a smaller tree. One that is not an EVENT just to get it in the house.
We put on the ornaments. And because it's a smaller tree– well, not all the ornaments made the cut. Here are some highlights: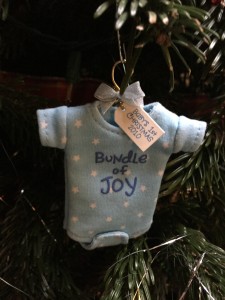 This little "onesie" ornament is for Austin from my Aunt Earline. My Aunt passed away in November 2010. Before she became too ill she went Christmas shopping. She bought this for the yet to arrive Austin. We got it after she passed and the idea that in the midst of preparing for the end of her life, she thought to buy something so precious for the great-nephew she'd yet to  meet, well, it just makes my heart burst.
Every year that we pull it out, I tell Austin about his Aunt Earline. She did get to meet him once before she moved on to heaven. This year was the first he was old enough to remember last year's stories.
This little bell ornament is one Austin and I made our first Christmas as a family of two.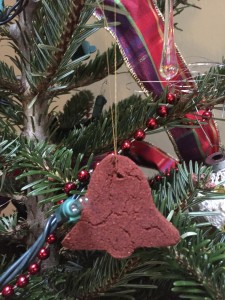 We made it with cinnamon and applesauce. I couldn't bring myself to pull the old ornaments out that year and be reminded of all that I'd lost the preceding year. So we made ornaments. It now hangs as a good reminder that just because we can't celebrate the old ways, doesn't mean we can't celebrate.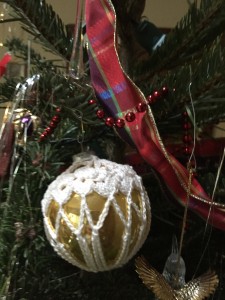 This ornament I bought for myself when I was 18. It means a few things to me. One is, at 18, I knew I would have a home and I would want beautiful things in it. This ornament has been on my tree for over 25 years. It has made it through a lot. It lost it's top. So it hasn't come through unscathed, but it's not broken.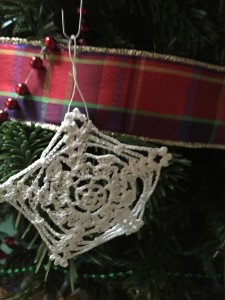 This ornament was crocheted by my Great Grandma Swanson. I love having things with a history. And this one holds part of my history.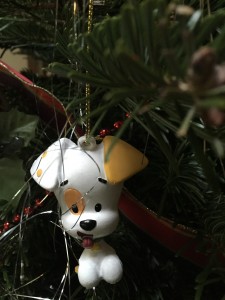 This odd little dog ornament was a gift from Austin. The first he completely selected on his own. His Dad took him shopping- after we split.
It says two things to me: Lighten up. The tree is beautiful- not because this weird little dog (it has a mermaid's tail!) is on it, but because something Austin picked just for me is there. And if I don't look at the tail, it is cute.
It also says his Dad and I can be incredibly decent to each other for Austin's benefit.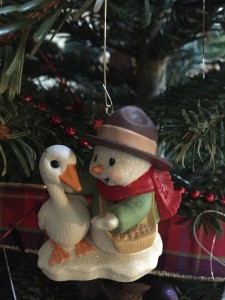 This ornament is one I bought for Austin to start a new tradition. A new ornament that is just his each year. And when he moves on to his own home, he will take them. He'll tell stories about his Aunt Earline. About his Grandmas. About his mom. About how we were a family of two. We started our own traditions. When the old didn't work, we made something new.  And we also remembered where we came from. We celebrated. We laughed. And it was beautiful.
Because it is.
Beautiful.
Merry Christmas to all of you.