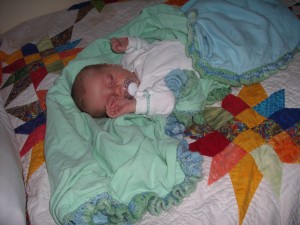 I thought I would write some posts directly tying in with the "prayer" in Prayers and Cocktails. Not to be rude, but drinks first. I recently picked up a sauvignon blanc to go with a stir fry I made. I really liked it– unusual for me and white wine. So, I'll stick with that.
Anyway, prayer is talking to God. And there are different ways to do it. I did a search on this and people had all kinds of different types of prayers. I think the "official" types are thanksgiving, intercession, petition, praise and confession.
Well, I'm not very official about my prayers. So, the first kind of prayer I want to write about is the Sleeping Baby Prayer. I chose this one to write about first because my cousin recently had a baby (hooray!) and I have a baby who recently started sleeping through the night (HOORAY!).
The Sleeping Baby Prayer is when in a very quiet, peaceful way I talk to God. It's the kind of prayer I do when I see my miracle baby sleeping with his arms thrown over his head, legs akimbo. It's the kind of prayer I do when I steal in to pray over my daughter with her strawberry blonde waves covering her pillow. It's the kind of prayer I do when I'm outside at night watching our alpacas cast shadows from the glow of the moon and milky way. Or even when I get to sit on the outdoor swing and watch the sun gild the forest. It's the kind of prayer I do when I handle a challenge with more grace than I know I alone possess. It's the kind of prayer that may seem like no big thing unless you know that rush of peace when the baby is sleeping.