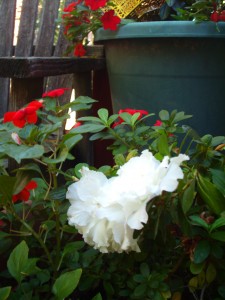 That picture is of my white azalea. Blooming. I'm the first to admit, it's not in FULL bloom. I walked through an azalea forest (or so it seemed) in Shreveport, Louisiana once and my little white azalea looks kind of pathetic compared to that.
But this azalea came from some supermarket my husband stopped at a day before our wedding when I realized I didn't have flowers for the front of the church. Meaning the church would have two BARE pedestals. Right up there. In. The. Front. I knew with every borderline OCD cell in my brain, I wouldn't concentrate on a thing being said if we didn't have those pedestals blooming.
So, I had two little white azaleas on those pedestals and was able to look into my husband's eyes and hear his promises. I was able to look into his eyes and make my own. I was able to bow my head and pray that we'd be able to do all that stuff we just promised.
I brought those azaleas home. I had beautiful dreams of watching them grow and bloom over the years. Similar to the dreams for my marriage. One died from frost. It just kind of turned into brown crumbs. Very sad. The remaining one has been in the ground at two houses, it has been in several pots, it has been moved around to various spots. It has been frost bit, sun burnt and decimated by deer (which are not supposed to even eat azaleas). And I forget to water on a habitual basis. I had another plant in there with it that took over and threatened to kill it altogether with its greedy habits. Now the little white azalea only shares with some well behaved annuals.
Oh, and I also found out that those little grocery store plants aren't even really supposed to be able to LIVE much beyond whatever last minute gift giving mandate you're buying them for.
So, actually, this little azalea with its lop-sided bloom is quite something. That wedding was eight years ago this week. That azalea has been through a lot. But it is still here.